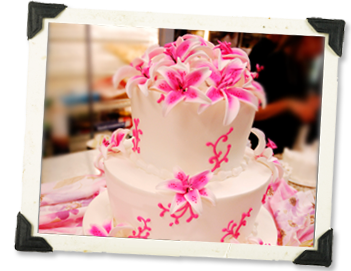 *Custom flavors also available upon request.
Just a few favorites...
Strawberry and Chantilly- A golden sponge cake with chantilly cream filling, smothered with fresh strawberries in a strawberry sauce. A tasty way to end your day! Fruit filling can be substituted for a variety of flavors including peach, banana, raspberry, pineapple.
Ice Cream Cakes-Two layers of cake with thick ice cream filling. Available with crunchies and a choice of Vanilla, Chocolate, Strawberry, Cookies & Cream or Chocolate Chip ice cream.>
Chiffon- Golden sponge cake with a tinge of Grand Marnier flavor and a light blend of buttercream with lemon, raspberry or mocha flavors.
Double Temptation- Our delicious mouth watering cheese cake with devils food cake and our delectable mousse filling will leave your guests astonished!
Back to Basics- A golden sponge cake with vanilla and chocolate custard filling. This can be accented with rum upon request. A vanilla and chocolate chantilly can be substituted for a lighter cake. A traditional way to end your day!
Black Forrest Cake- Devil's food cake with a Kirsch liqueur, black cherries and whipped cream filling.
Bailey's- Golden sponge cake or devil's food cake with a Bailey chantilly and soaked with Bailey's cream.
Kahlua- Devil's food cake with a Kahlua flavored light cannoli cream. A coffee lover's delight!
Black Velvet- A rich dark chocolate cake with your choice of filling.
Chocolate Whipped Cream Delight- This golden sponge cake is enhanced with three layers of chocolate whipped cream filling and a hint of Grand Marnier liqueur. A great presentation when served to guests.
Fran Angelico- An Italian sponge cake sprinkled with Fran Angelico liqueur and filled with hazelnut chiffon. An unforgettable dessert.

*The newest craze*

Cup Cake Wedding Cake- Your choice of vanilla or chocolate cup cakes with a filling of your choice displayed beautifully in a tier motif resembling a traditional wedding cake.
7-Layer Cake- 7-layers of golden sponge with six thin layers of chocolate buttercream.
Leche Condensada- A favorite South American caramel delight!
Pina Colada- Golden sponge cake with a hint of rum, filled with pineapple and coconut chantilly. Truly a tropical dessert.
Lemon Mousse with Raspberry- Golden sponge cake filled with lemon mousse and fresh raspberries. A tangy delight for everyone.

Oreo/Peanut Butter- Your favorite childhood flavors can be made for your memorable wedding day.
Cheese Cake- Our creamy, New York style cheese cake is an exceptional way to end the perfect day. This creamy delight can be served plain or smothered in fruits, such as strawberries or blueberries. Create your own with chocolate, marble, amaretto, raspberry, oreo, eggnog and more.
Carrot Cake- Moist carrot cake topped with cream cheese, blended with coconut, chopped nuts and raisins. "Simply the Best!"
Tiramisu- Mascarpone cheese filling with shaved chocolate sits between three layers of golden cake soaked with espresso and Kahlua.
Raspberry Chambord- A thin layer of pure raspberry jam with a light chantilly cream between vanilla sponge cake or black velvet cake. It can be smothered with fresh raspberries when in season.
Trifecta- Black Velvet, White Velvet, or Red Velvet with layers of raspberry jam filling.
Chocolate Lobster- A moist Devil's food cake with a fluffy lobster tail cream (cannoli and whipped cream blended filling) with luscious chocolate chips.
Hazelnut- Rich chiffon filling with small bits of hazelnuts. Excellent with Black Velvet cake-tastes like Baci chocolate.
Chocolate mousse- Chocolate Devil's food cake with chocolate mousse filling covered with liquid chocolate topping and chocolate shavings. Choose from a variety of fillings including chocolate praline mousse, raspberry, amaretto and more.
Brown Derby- Devil's food cake with strawberry, banana and peach filling with whipped cream.
Grooms Cake- A southern tradition, different from a wedding cake. Often depicts a theme which reflects the groom's personality or his favorite thing.
Red Velvet– Red sponge cake with cream cheese filling. "Rich" sweet southern flavor.

Remember, if you are not the #1 priority, you're not at DiMare's!